Ihr lieben Kreativen, ich begrüße Euch herzlich zu unserem letzten Artisan Blog Hop im Jahr 2018! Heute möchte ich Euch und natürlich auch die anderen Artisan-Design-Mädels mit dem Produktpaket Eisblüten verzaubern und Euch das neue Designteam für das nächste Jahr vorstellen! 
Hello friends, welcome to our last Artisan Blog Hop in 2018! Today we show you some ideas with the product package First Frost and introduce the new Artisan Design Team for 2019!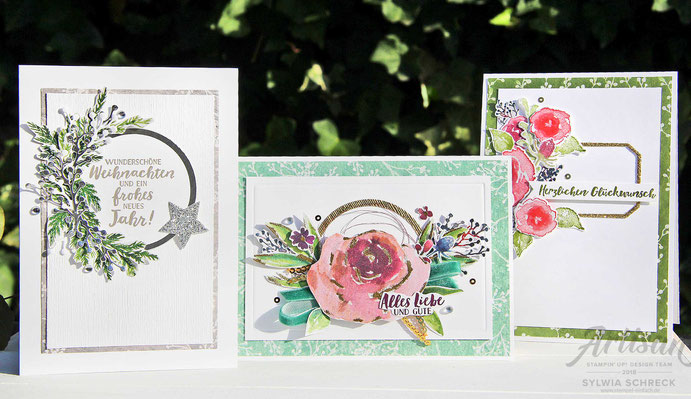 Nun, wo soll ich anfangen!
Das Jahr ist fast vorbei und unsere kreative Zeit mit dem Designteam 2018 neigt sich ebenfalls dem Ende! Mit dem heutigen und letzten Artisan Blog Hop in diesem Jahr möchte ich DANKE sagen.
Einerseits an das unfassbar kreative und begabte Artisan Team 2018, dass ich kennenlernen und begleiten durfte. 
Andererseits

an Stampin´ Up, die mit diesem Projekt für uns von Canada bis Neuseeland, über die verschiedene Zeitzonen und Breitengrade der Welt, so eine wunderbare Möglichkeit des kreatives Austausches geschaffen haben! 

Und noch ein dickes DANKE an diejenigen, die uns begleiten, mit uns hüpfen und sich von uns inspirieren lassen!  
The year is almost over and our creative time with the design team 2018 comes to an end! I want to thank THANKS at this and the last Artisan Blog Hop this year.
First a big Thanks, the incredibly creative and talented Artisan Team 2018, whom I was able to get to know and accompany.
Thank you Stampin 'Up for a wonderful opportunity creative exchange with us from Canada to New Zealand in the different time zones and latitudes of the world!
And THANK YOU to all who accompany us, jump with us and be inspired by us!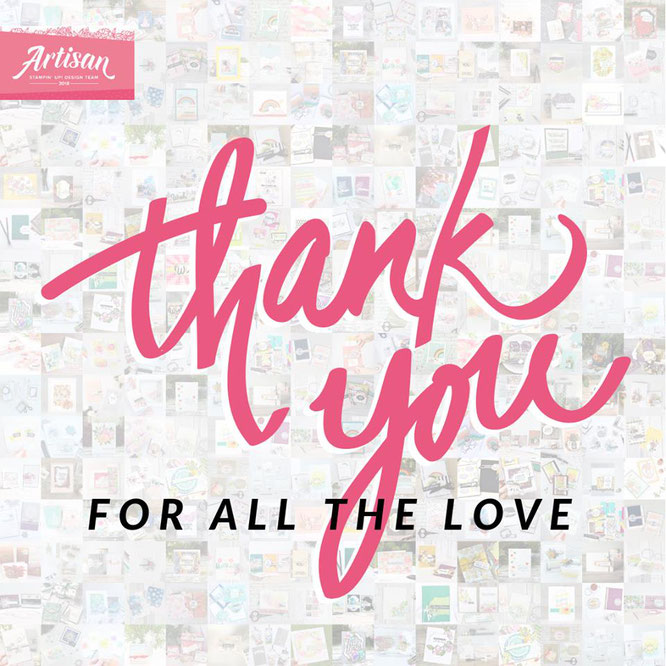 Das neue Artisan Design Team!
Karten mit Produktpaket Eisblüten!
Der Fokus des Blog Hops heute liegt neben der Vorfreude auf das neue Team, auch auf dem Produktpaket Eisblüten.
Insgesamt ist das Produktpaket etwas besonderes, denn es eignet sich für mehrere Gelegenheiten und das ist genau DAS, was ich liebe! Wunderschöne blumige Motive, schöne Sprüche in eine tollen Schriftart und vor allem ist das Stempelset nicht nur für Weihnachten geeignet, sondern kann das ganze Jahr über benutzt werden! 
The focus of the blog hops today is next to the anticipation of the new team, also on the product package First Frost.
Overall, the product package is special because it's suitable for multiple occasions and that's exactly what I love! Beautiful floral motifs, beautiful sayings in a great font and especially the stamp set is not only suitable for Christmas, but can be used throughout the year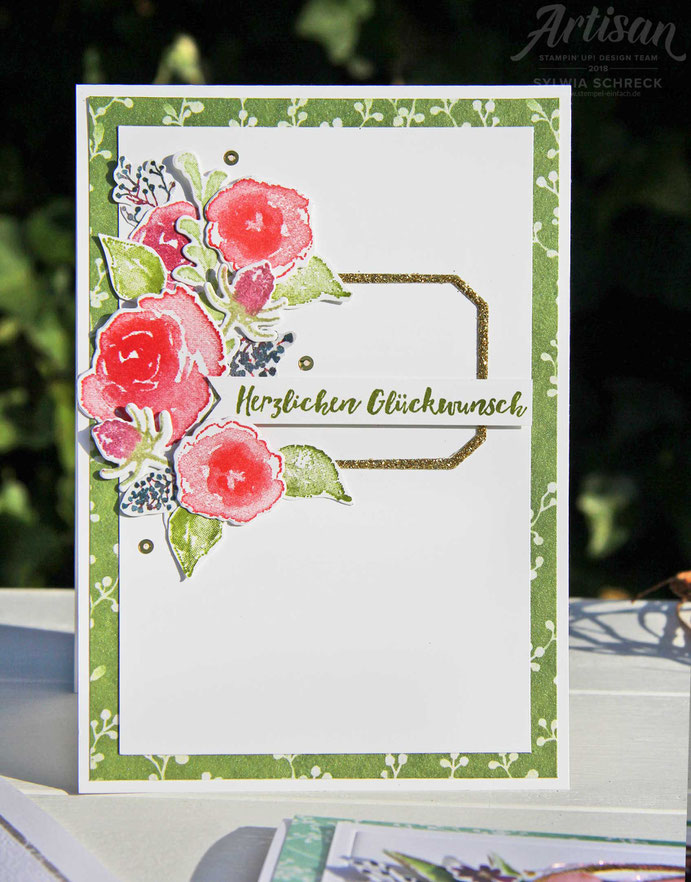 Perfekt zur Jahreszeit und den kommenden Feiertagen habe ich auch ein winterliches Kärtchen gestaltet. Mit vielen lieben Wünschen, frischen Zweigen, die ich aus dem Designerpapier Winterblüten ausgeschnitten habe und einem leuchtenden Stern aus Glitzerpapier. 
Perfect for the season and the upcoming holidays, I have also designed a winter card. With many sweet wishes, fresh branches, which I have cut out of the designer paper winter flowers and a shining star made of glitter paper.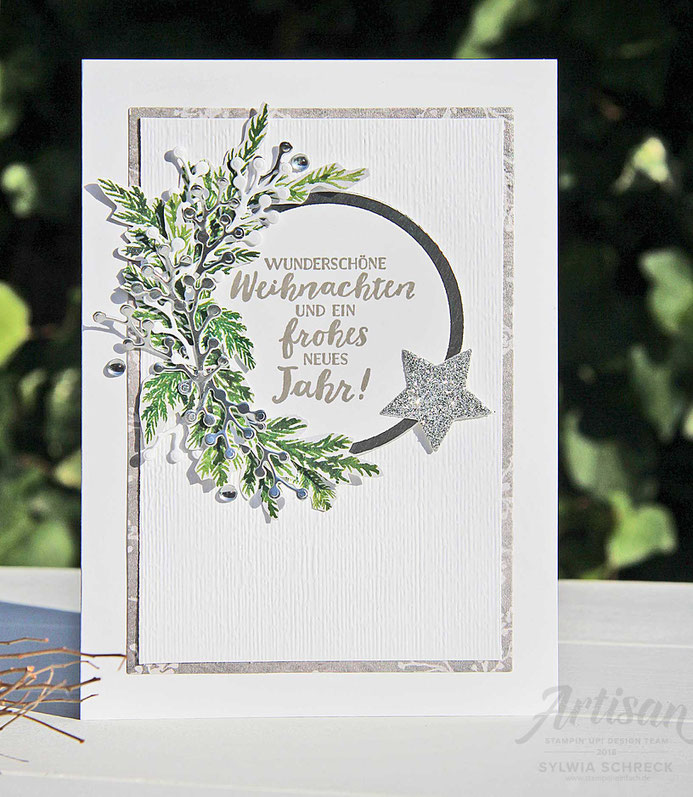 Für das blumige Kärtchen mit Alles Liebe Und Gute habe ich ebenfalls das Designerpapier verwendet und schnitt ich mit der Schere verschiedene Motive aus, die ich dann auf der Karte zu einem Blumenarrangement zusammen gebunden habe. 
For the flowery card with All the best and good, I have also used the designer paper and I cut with the scissors different motives, which I then tied together on the card to a flower arrangement. I "gilded" a few flowers and leaves as an eicatcher.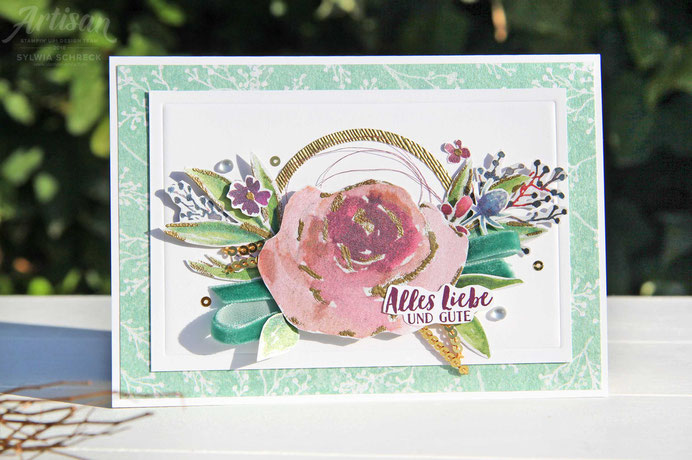 Jetzt, etwas fröhlichen und traurig zugleich, verabschiede ich mich und wünsche Euch viel Spaß bei unserem Blog Hop! Mit der zauberhaften Cathy geht es nun weiter:
Now, a little happy and sad at once, I say goodbye and wish you a lot of fun with our blog Hop! The enchanting Cathy continues:
 >Sylwia Schreck< Germany - das bin ich!
Stampin´ Up! Materialien: